An Evening with New York Yankees legend CC Sabathia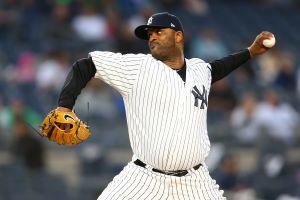 Friday, September 22, 20237:00 p.m.

MLB Pitcher, Special Assistant to the MLB Commissioner, Board Vice President of The Players Alliance, and Host of R2C2 Podcast
A 19-season MLB veteran, six-time MLB All-Star, and New York Yankees legend, CC Sabathia retired as the MLB's active leader in strikeouts, innings pitched, complete games, and WAR. Today, Sabathia ranks third in MLB history in strikeouts by a left-hander, trailing only Hall of Famers Steve Carlton and Randy Johnson.
During this moderated event, Sabathia will discuss his time in the MLB and his post-retirement work. He will also address aspects of his 2021 memoir, Till the End – a raw, compelling account of baseball, family, fame, addiction, and recovery.
Sabathia signed with the Yankees in 2009 in what was at the time the largest-ever contract signed by a pitcher. As a Yankee, Sabathia led the MLB in wins in both 2009 and 2010 and won the World Series in 2009. On June 12, 2018, he became one of only five pitchers in Yankees history to record 1,500 strikeouts for the team. In 2019, he retired as one of the most beloved baseball players of his generation.
In 2008, Sabathia and his wife, Amber, formed the PitCCh In Foundation, a 501(c)(3) non-profit organization whose mission is to enrich the lives of inner-city youth in the New York Tri-State area and Northern California by raising their self-esteem through educational and athletic activities.
Now in his post-MLB career, Sabathia has served as the Board Vice President for Players Alliance, a group of more than 100 active and former professional players united to use their voice and platform to create new opportunities for the Black community in all areas of baseball and society. He was also named MLB's Special Assistant to the Commissioner, a new role developed specifically for him that addresses areas important to the future of the sport, including player relations; Diversity, Equity & Inclusion; social responsibility; youth participation; and broadcasting.

Ticketing:
$120 VIP seating Lower M2-M5 seating (includes post-event photograph with CC Sabathia and pre-signed copy of the Memoir, Till the End) Seats limited in lower level center sections.
$60 (premium seats) Remaining (mid-rear) lower M sections M2-M5 and all M1 and M6.
$45 Regular (all Upper sections U1-U12)
$30 (SCSU students) * with valid SCSU HootLoot. Upper sections (U1-U12)
Please note: There will be no autographs/signing
of memorabilia during or following this event.
Group discount ra
t
e:

(for parties of 10 or more). Upper sections (U1-U12)

(Call the box office direct to order your

group

tickets 203-392-6154,
Monday-Friday 11am-430pm)
$35 Adults
$30 Children (16 and under)
Seating:
RESERVED