Women of Jazz featuring Ragan Whiteside, Paula Atherton, Carol Albert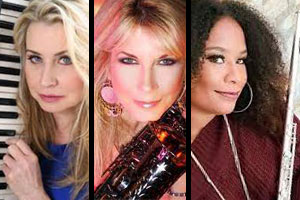 Saturday, November 18, 2023
8:00 pm.


In a genre where an artist's success is generally measured by radio airplay spins and Billboard chart positions, pianist/composer
Carol Albert'
s recent Top 5 singles "Perfect Sunday" and "Stronger Now" – from her 2020 full length album Stronger Now - have crossed over to massive numbers in a metric usually touted by mainstream pop stars. Currently, "Perfect Sunday" has over 6.4M streams on Spotify and "Stronger Now" has over 2.1M. The album's other radio hits include the Top 5 hit "Femme Flight," which featured flutist Ragan Whiteside and saxophonist Magdalena Chovancova and earned Carol a new legion of fans via extensive airplay on SiriusXM's Watercolors.
Since establishing herself as smooth jazz mainstay in 2017, one of Carol's unique trademarks has been writing and recording songs that both chronicle and express her own emotions and thoughtfully reflect upon the world around her. Her single "Paradigm Shift," released in August 2022, powerfully captures the profound shift of consciousness that's collectively taken hold of us in the wake of the pandemic.
Saxophonist, flutist
Paula Atherton
has enjoyed a long and varied career in contemporary and mainstream jazz. Her acumen on her instruments are poised and adept. Her full-length album "Can You Feel It" has garnered real accolade with her single also titled "Can You Feel It," landing a #1 hit, three weeks in a row on Billboard. What is even more cementing about this accolade is she also landed #1 slots on Mediabase and #1 on the Smooth Jazz Network. Each track is produced by various producers including, Bill Heller, best known as the legendary keyboardist for the Ripppingtons.
Ragan Whiteside
Flute-playing soul-jazz phenomenon Ragan Whiteside has become one of the genre's most consistently dynamic and popular artists. Thanks to her incredible skill and creativity on her chosen instrument, as well as her charismatic presence on stage, Whiteside is at the top of her game. That was demonstrated in October 2022, when she became the first artist to win the competitive Best Contemporary Jazz Artist Award at the inaugural Jazz Music Awards, held at the Cobb Energy Centre in Atlanta. Whiteside is also a 2023 NAACP Image Award Nominee and four-time nominee for the Smooth Jazz Network's Best Artist Award.
That distinction is well-deserved, as the Atlanta-based musician, songwriter, and vocalist has become one of very few women players to excel in the male-dominated instrumental sphere, garnering nine consecutive Top Ten Billboard airplay singles by 2022. And she's done it as an independent artist, releasing projects on Randis Music, the label she founded with her husband, producer, and composer Dennis Johnson.
Her most recent full-length project, 2022's Thrill Ride, is her sixth career album to date and it lives up to its title, demonstrating Whiteside's breathtaking virtuosity and melodic skills on a thrilling journey through a landscape of dynamic grooves. The title track, "Thrill Ride," peaked at No. 1 on five radio charts, including the Billboard Smooth Jazz Chart, Mediabase, the Smooth Jazz Network, Radiowave and Groove Jazz Music.
Tickets:
$55 General Public
$45 Faculty/Staff *(limit 2 with valid SCSU ID)
$45 SCSU students *(limit 1 with valid SCSU hootloot ID)
*plus a $5 per ticket Handling Charge applicable online and at box office*
Seating:
Reserved