Marcus Anderson, Julian Vaughn, Lin Rountree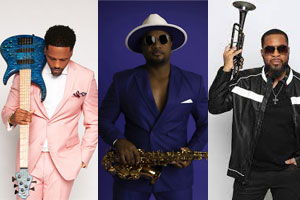 Saturday, March 11, 20238:00pm.
Marcus Anderson
The Grammy and Stellar Award Nominated artist is an incredible act and one worth watching, saxophonist Marcus Anderson is the golden child shining among stars. With 13 studio albums on his list of accomplishments, the fusion jazz artist brings R&B, Pop, Rock and Funk to make music that puts listeners in another atmosphere. Charting number one in both categories of Billboard's Smooth Jazz and Sirius XM's Watercolors with numerous hits. His work with the late Prince and the New Power Generation led him to join stages with the likes of CeeLo Green, Judith Hill, Stevie Wonder, and Liv Warfield just to name a few, where he had become a key contributor in these touring band. Prince also featured Marcus on his last release Hit N Run Phase 2, playing on "Revelation" and "Look at Me Look at You".
Julian Vaughn
Is a soulful bassist who makes his own brand of gospel-influenced smooth jazz and instrumental R&B. Starting out on drums, Vaughn eventually discovered his love of bass, and by age 19 was teaching himself how to improvise and was Influenced by such artists as Wayman Tisdale and Marcus Miller. In 2020 Vaughn was the #2 Artist of the year and had the #2 and #17 Billboard songs of the year, "Afro Calypso" and "Afternoon Delight." His latest independent release, titled "SOLO" is slated to be his best work to date. As Vaughn's recording catalog continues to grow, he hopes to continue to redefine the lead bassist role in the smooth jazz genre.
Lin Rountree

(aka The Soul-Trumpeter)
Is an accomplished recording artist, producer and live performer. With Seven solo projects, 17 Chart Topping Billboard singles (Including THREE Billboard #1 Hits) and numerous collaborations with some of the industry's top R&B/Contemporary Jazz artists to his credit he is fast becoming one of the most renowned artists of his generation. All in all, his music represents a new direction in instrumental soul and as a thankful musician, Rountree has become a leader amongst the new generation of Soul- Jazz artists.
Tickets:
$45 General public
$40 SCSU Faculty/Staff *(limit 2 with valid SCSU ID)
$35 SCSU Student * (limit 2 with SCSU valid hootloot ID)
*plus a $5 per ticket Handling Charge applicable online and at box office*
Seating: Reserved