Evening with LINDSEY WEBSTER & ADAM HAWLEY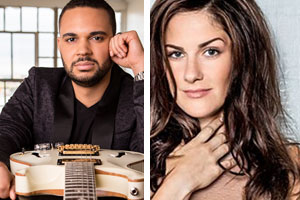 Saturday, May 7, 2022
8 p.m.

Click here for full COVID policy:
https://lymancenter.org/event-policy.php
From the first note, Lindsey Webster captivates listeners. Her rich, soulful voice enchants a dedicated following who connect with the raw emotion she shares with them. As a Soul R&B artist, she combines an admirable natural talent with a genuine, accessible stage presence.
Webster considers herself "very, very lucky" to have grown up in Woodstock, NY. With a heavy emphasis on arts and music, her grade school had a progressive music program where Lindsey cultivated a deep love of music by learning the cello. After playing for 10 years, often in first chair, she moved to NYC to attend Fiorello H. LaGuardia School for the Music, Art & Performing Arts. As she grew musically, she transitioned from strings to voice where she heard her calling and found herself.
In 2009, Lindsey met her partner, Keith Slattery, and started performing professionally. Together, with a band of world-class musicians, they've performed over 600 shows in venues including Yoshi's Oakland, The Iridium, North Sea Jazz Club, Pizza Express, Levon Helm Studios, Daryl's House, Helsinki Hudson, The Falcon, The Bitter End, and the Bearsville Theater.
The success of her second album, You Change, and achieving the only vocally driven song to hit #1 on the Billboard Contemporary Jazz chart for four weeks (beating out Sade's previous record of three weeks) caught the eye of Shanachie Entertainment, whom she signed with to release her third album, "Back To Your Heart". This third relelase shows a real transition and beautiful growth for Webster as an artist. While humbled her voice has been compared to R&B royalty Sade, Mariah Carey, and Anita Baker, Lindsey looks to bring her distinct style to Soul R&B and continue to make music that resonates with her fans.
Adam's first two albums stormed up the charts in unprecedented fashion setting the stage for his third release, "Escape." The album features guest appearances by Najee, Rick Braun, Michael Lington, Marcus Anderson, Jeff Ryan and Kat Hawley.
Adam signed with Kalimba Music (founded by Maurice White of Earth, Wind, & Fire) in August 2015. His first offering on the Kalimba label features Brian Culbertson, Gerald Albright, Euge Groove, Eric Darius and Michael Lington. And in 2016, Adam was named both Smooth Jazz News and JazzTrax Debut Artist of the Year.
Adam has also been a guitarist to the stars, appearing with a who's who list of artists in a wide variety of genres. Credits include Dave Koz, Jennifer Lopez, Brian Culbertson, Natalie Cole, Brian McKnight, and American Idol to name just a few.
He holds a Doctorate of Musical Arts from the University of Southern California and currently teaches at Musician's Institute, Chaffey College, and Saddleback College.
Tickets:
$35 General Public
$33.75 Series
$30 Faculty/Staff (Limit 2 with valid ID )
$25 SCSU students (Limit 2with valid ID )
Seating: Reserved