Nick Colionne with Special Guest Jackiem Joyner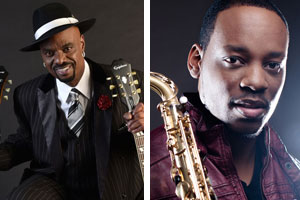 Saturday, March 26, 2022
8pm
SCSU General Public COVID - 19 Protocol:
If you attend an event at The Lyman Center, you agree:
* To provide proof of vaccination against COVID-19 (14 days past second shot)
* OR proof of a negative COVID-19 PCR test (received within the past 48 hours)
* You must show a matching picture ID upon entry to the venue
* You understand that by not providing proof of your vaccination or a negative PCR test that you will not be allowed in the venue
* The University requires all personnel and members of the public to wear masks within The Lyman Center
SCSU Faculty, Staff and Student COVID - 19 Protocol:
If you attend an event at The Lyman Center, you agree:
* That you have fulfilled the State and University mandated requirements to be vaccinated against COVID-19 (14 days past second shot)
* OR are being tested per SCSU guidelines and your most recent test is negative
* You must show a valid SCSU ID upon entry to the venue
* The University requires all personnel and members of the public to wear masks within The Lyman Center
Click here for full COVID policy:
https://lymancenter.org/event-policy.php
Continuing to capture his creative mindset, vision and the ever-evolving artistry of his music with inspiring, thought provoking album titles, Nick Colionne calls his latest album Finger Painting for the simple reason that he's always visualized his Epiphone ES 175 premium guitar as a musical paintbrush painting all the colorful notes he plays. The wild array of colors on the album cover perfectly reflects the cool multitude of moods, energies and flow that Nick creates over the course of the eleven tracks with longtime collaborators and producers Chris "Big Dog" Davis, James Lloyd (from Pieces of a Dream) and John Blasucci. Kicking off his rise to urban jazz superstardom with his breakthrough album Just Come On In (2003) he has since mastered the art of Keepin' It Cool (2006), transcended musical boundaries to explore realms where there are No Limits (2008), fired up his thousands of worldwide fans with Feel the Heat (2011), dug deep into his musical soul to share some of his deepest jazz and R&B Influences (2014) and made history with his 2016 collection The Journey by becoming the only artist in the history of the format to score five consecutive #1 singles on the Billboard Smooth Jazz National Airplay and Smooth Jazz Songs charts from a single album. Nick followed up in 2018 with Just Being Me. Nick has received numerous honors throughout his multi-faceted career, including the Wayman Tisdale Humanitarian Award at the 2010 National Smooth Jazz Awards for his ongoing commitment to mentoring children and his work in the community and nationally in support of breast cancer causes. The recipient of the 1996 Malcom X College Alumnus of the Year Award (he earned his degree there in music), Colionne has devoted much of his spare time over the past 20 years to mentoring children at St. Laurence K-8 School in Elgin, Illinois.
As a young turk on the contemporary jazz scene, saxophonist Jackiem Joyner is far from complacent and staid in his sound and style. Not afraid to challenge the fan base that took him to No. 1 twice and Top 3 two more times on the Billboard chart, Joyner gets adventurous on his fifth album, "Evolve," which will be released April 29th by Artistry Music/Mack Avenue Records. It's his first on which he wrote and produced the entire set, including the first single going to radio in mid-March, "Generation Next," an up-tempo urban-pop track with vibrant flashes of strings that provide a contrast to Joyner's gentle melodic sax.
Juxtaposing invigorating otherworldly sonicscapes under tender sax melodies, "Evolve" is a dynamic, highly-rhythmic session that is unpredictable laced with traces of the familiar. Listening will take you to a different place while defining Joyner as a musician and a writer beyond what we have already heard from the chart-topping rhythm and groove guy. The imaginative new set has a greater purpose with the introductory single, "Generation Next," serving as "a declaration that the next generation of jazz musicians is here to stay. Music evolves, including jazz. All types of sound evolve. So do people and our imaginations. That is what I tried to put on tape. 'Evolve' captures the changes in my musical mind and how I have evolved as an artist. Rather than fitting in with the traditional, I'm bringing the audience along with songs that unfold over different and interesting soundscapes even as I move towards a live organic sound," explains Joyner.
In addition to playing alto and soprano sax on the record, Joyner is a multi-instrumentalist who played many of the instruments heard on the collection along with a couple of high-profile assists from Grammy-nominated sax player Gerald Albright and internationally-renowned keyboardist Keiko Matsui. The collaborations are noteworthy for different reasons. When Joyner was in high school, Albright was his idol thus dueting with him on "Big Step" was a thrill. Joyner tours in Matsui's band when not performing his own dates and wrote "Europa" with her mind. On a few tracks, he was joined by his touring band – guitarist Kayta Matsuno, bassist Tim Bailey, keyboardist Bill Steinway and drummer Raymond Johnson – to record live in the studio.
"Evolve" marks a return for Joyner to the contemporary jazz-urban instrumentals for which he achieved notoriety on his first three albums after 2012's "Church Boy," an offering that landed on Billboard's Jazz Albums and Top Gospel Albums charts. Joyner was named Debut Artist of the Year for his 2007 debut, "Babysoul," by Smooth Jazz News. His sophomore set, "Lil' Man Soul," registered a pair of No. 1 Billboard hits with "I'm Waiting For You" reigning for 12 weeks and winning Song of the Year honors at the 2009 American Smooth Jazz Awards. Two singles from Joyner's self-titled third record climbed into Billboard's Contemporary Jazz Songs Top 3. He's toured the world extensively in support of each release and anticipates a busy year of touring in 2014 – both with his own band and with Matsui.
Tickets:
$35 General Public
$33.75 Series
$30 Faculty/Staff (Limit 2 with valid ID)
$25 SCSU students (Limit 2 with valid ID)
Seating: Reserved