Jazz Funk Soul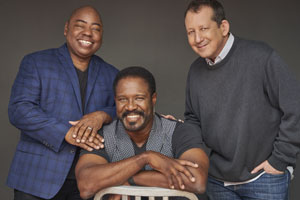 Friday, June 3, 2022
8 p.m.
Click here for full COVID policy
:https://lymancenter.org/event-policy.php
Smooth jazz supergroup Jazz Funk Soul began in the mid-2010s as a collaborative trio featuring veteran musicians Jeff Lorber (keyboards), Chuck Loeb (guitar), and Everette Harp (saxophone). After Loeb's death in 2017, guitarist Paul Jackson, Jr. joined the remaining members for the 2019 release Life and Times, which honored their former bandmate.
Formed as a live touring ensemble in 2013, the trio began making instrumental jazz and R&B built upon the vast career experience of all three members. Jazz Funk Soul released their full-length eponymous debut on Shanachie in 2014. The trio returned in 2016 with their sophomore album, More Serious Business. When Loeb succumbed to cancer in July 2017, Lorber and Harp enlisted guitarist Paul Jackson, Jr. to join them for an album that would serve as a tribute to Loeb's legacy. Life and Times appeared in January 2019.
Tickets:
$40 General Public
$35 Faculty/Staff(Limit 2)
$30 SCSU students with valid ID (Limit 2)
Seating: General Admission