Norman Brown's Joyous Christmas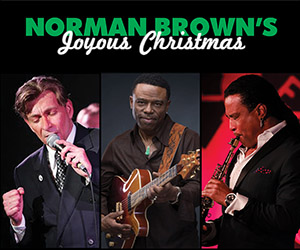 ***SOLD OUT***

Saturday, December 14, 2019
8:00 p.m.
GRAMMY Award winner, Norman Brown presents A Joyous Christmas featuring Bobby Caldwell and Marion Meadows. Join the legendary musicians for a special holiday celebration with a smooth jazz twist! Drawing comparisons to George Benson, Norman Brown earned much-deserved recognition with a GRAMMY Award for Best Pop Instrumental and his compilation, The Very Best Of Norman Brown was one of the best-selling Smooth Jazz albums of the Year. Tracing a twenty-five year history from acclaimed soul stylist to in-demand pop and R&B songwriter, Bobby Caldwell is truly one of the most revered vocalists and songwriters in contemporary music. Marion Meadows has a passion for various types of music led him down an eclectic musical path. He became a staple of the contemporary jazz format with his subsequent recordings, including Body Rhythm, Forbidden Fruit, Passion, Another Side Of Midnight, Next To You, In Deep, Players Club, Dressed To Chill, Secrets, Whisper and Soul Traveler.
SOLD OUT
Seating:
Reserved